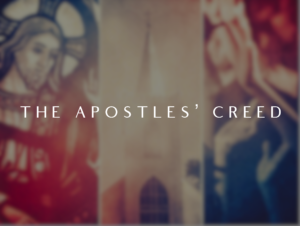 Apostles CREED
I believe in God, the Father almighty,
creator of heaven and earth.
I believe in Jesus Christ, God's only Son, our Lord,
who was conceived by the Holy Spirit,
born of the virgin Mary,
suffered under Pontius Pilate,
was crucified, died, and was buried;
he descended to the dead.*
On the third day he rose again;
he ascended into heaven,
he is seated at the right hand of the Father,
and he will come to judge the living and the dead.
I believe in the Holy Spirit,
the holy catholic church,
the communion of saints,
the forgiveness of sins,
the resurrection of the body,
and the life everlasting. Amen.
1 Corinthians 15:3-8 ESV
For I delivered to you as of first importance what I also received: that Christ died for our sins in accordance with the Scriptures, [4] that he was buried, that he was raised on the third day in accordance with the Scriptures, [5] and that he appeared to Cephas, then to the twelve. [6] Then he appeared to more than five hundred brothers at one time, most of whom are still alive, though some have fallen asleep. [7] Then he appeared to James, then to all the apostles. [8] Last of all, as to one untimely born, he appeared also to me.
*Disclaimer*
Pastor Seth is from up North. He has not fully grasped the subtleties of using Southern phrases like, "Bless their hearts."
He's still learnin', bless his heart! LOL